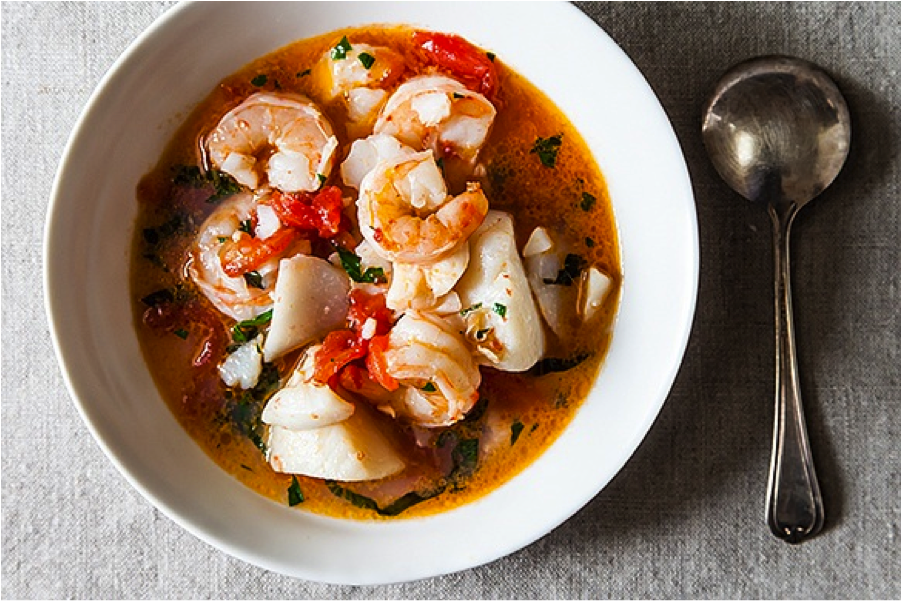 Food52 Review: WHO: inpatskitchen is an avid FOOD52-er and food blogger — with fish and seafood retail in her blood.
WHAT: A bright, pure seafood stew that comes to (…more) – A&M
Serves 4 to 6
• 1/3 cup extra virgin olive oil
• 4 crushed garlic cloves
• 6 peeled and seeded roma tomatoes cut into thin strips
• 1 cup homemade fish stock, purchased seafood stock or clam juice
• 1/2 cup dry white wine
• 1 pound skinned saltwater fish fillet(snapper, sole, halibut, cod) cut into 2 inch chunks
• 16 large peeled and deveined raw shrimps
• 16 sea scallops
• 1/2 cup finely shredded fresh basil leaves
• 1/2 cup chopped flat leaf parsley
1. Heat the oil in a 4 to 6 quart dutch oven or sauce pot. Add the crushed garlic and saute on very low heat for about two minutes or until the garlic is fragrant but not browned.
2. Add the tomatoes, stock and wine and simmer for about 10 minutes. (At this point you can cool and refrigerate this if you want to prep a day ahead – just reheat before adding the seafood)
3. Add the fish and seafood and simmer for about 5 minutes until just done (Don't over cook!). Stir in the parsley and basil and serve immediately ( with that crusty bread!!)
• This recipe is a Wildcard Contest Winner!
1 of 2 Photo by James Ransom