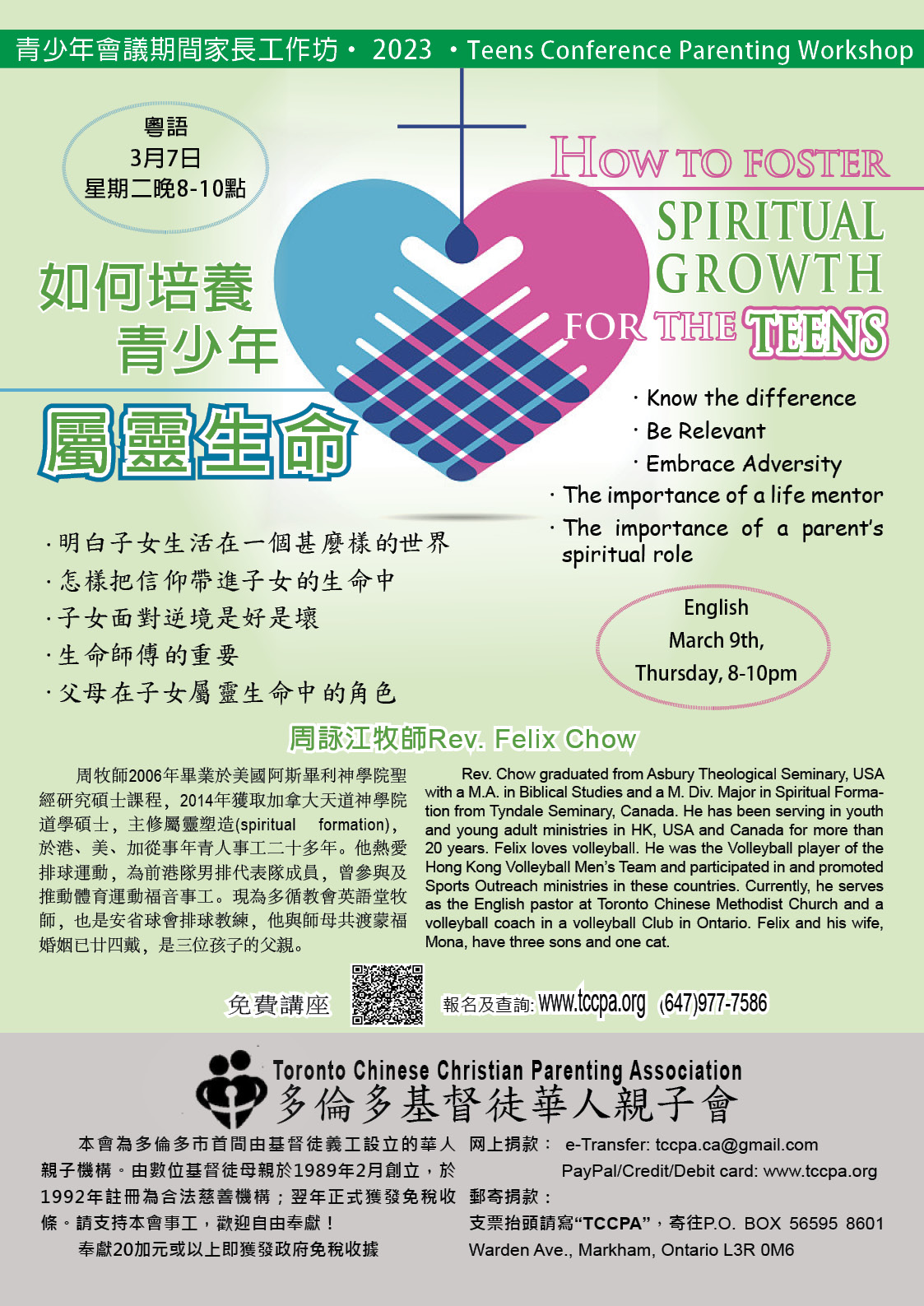 如何培養青少年屬靈生命
How to foster spiritual growth for the teens
內容簡要:
明白子女生活在一個甚麼樣的世界?
怎樣把信仰帶進子女的生命中?
子女面對逆境是好是壞?
生命師傅的重要
父母在子女屬靈生命中的角色
Know the difference
Be Relevant
Embrace Adversity
The importance of a life mentor
The importance of a parent's spiritual role
多倫多時間 Toronto Time:
3月 07 日 (March 7) 8:00pm-10:00pm 週二 Tuesday (粵語 Cantonese)
3月 09 日 (March 9) 8:00pm-10:00pm 週四 Thursday (English)
講員:周詠江牧師 Rev. Felix Chow
周詠江牧師2006年畢業於美國阿斯畢利神學院聖經研究碩士課程,2014年於加拿大天道神學院獲取道學碩士,主修屬靈塑造(spiritual formation),於港、美、加從事年青人事工約二十多年。周牧師熱愛排球運動,為前港隊男排代表隊成員.曾參與及推動體育運動福音事工。現為多循教會英語堂牧師,也是安省球會排球教練,他與師母共渡蒙福婚姻已廿四戴,是三位孩子的父親。
Rev Felix Chow graduated from Asbury Theological Seminary, USA with a M.A. in Biblical Studies and a M. Div. Major in Spiritual Formation from Tyndale Seminary, Canada. He has been serving in youth and young adult ministries in HK, USA and Canada for more than 20 years. Felix loves volleyball. He was the Volleyball player of the Hong Kong Volleyball Men's Team and participated in and promoted Sports Outreach ministries in these countries. Currently, he serves as the English pastor at Toronto Chinese Methodist Church and a volleyball coach in a volleyball Club in Ontario. Felix and his wife, Mona, have three sons and one cat.
免責聲明:
講員所述僅代表個人觀點,並非代表本會立場。所有言論僅供參考,請勿視為個别過案的專業判斷或治療。
Disclaimer:
The views expressed by our speakers are their own, and may not represent the TCCPA. All talks are intended as general information and should not be considered as professional advice in individual cases.