JEWISH APPLE CAKE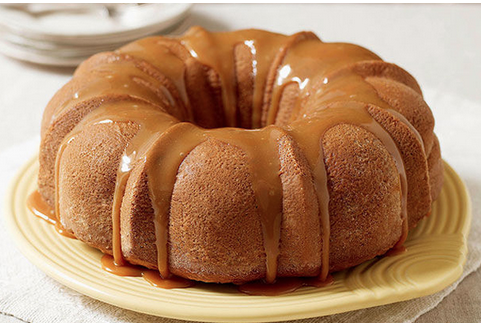 JEWISH APPLE CAKE (TCCPA Kitchen Tested)
Ingredients:
4 cups thinly sliced Northern Spy Apples (cored and peeled)
1/3 cups granulated sugar
1 tbsp cinnamon (or to taste)
3 cups all-purpose flour
1 1/2 cups granulated sugar
3 tsp baking powder
1 tsp salt
1 tbsp cinnamon
1 cup vegetable oil
4 eggs lightly beaten
1/2 cup orange juice
1 tsp vanilla
DIRECTIONS
Grease a 10-inch tube/bundt pan
Combine apples, sugar and cinnamon. Set aside.
In a large bowl, combine flour, sugar, baking powder and salt.
Make a well in the center. Add oil, eggs, orange juice and vanilla. Beat with a wooden spoon until smooth.
Spoon 1/3 batter into the greased pan.
Arrange half of the apples (drained of any excess moisture) on the batter, taking care not to have apples touching the sides of the pan.
Repeat with 1/3 of the batter and the remaining apples.
Smoothen the remaining 1/3 batter over top.
Bake in a preheated 375 degrees F oven 1 to 1 1/4 hours, or until inserted toothpick comes out clean.
Cool on rack for 10 minutes. Run a thin spatula all around the edges and remove the cake from the pan to further cool on a rack.
Dust with icing sugar (or top over with caramel), if desired, and serve warm or cold.
Makes 16 servings.
Caramel Topping:Microwave 20 Krafts caramels and 1/2 cup milk in microwaveable bowl on HIGH 1-1/2 min. or until caramels are completely melted, stirring every 30 sec. Stir until blended. Cool 10 min. or until slightly thickened. Drizzle over cake.
(Photo credits to www.kraftcanada.com)