Ted Key's Carrot Cake with Cream Cheese Icing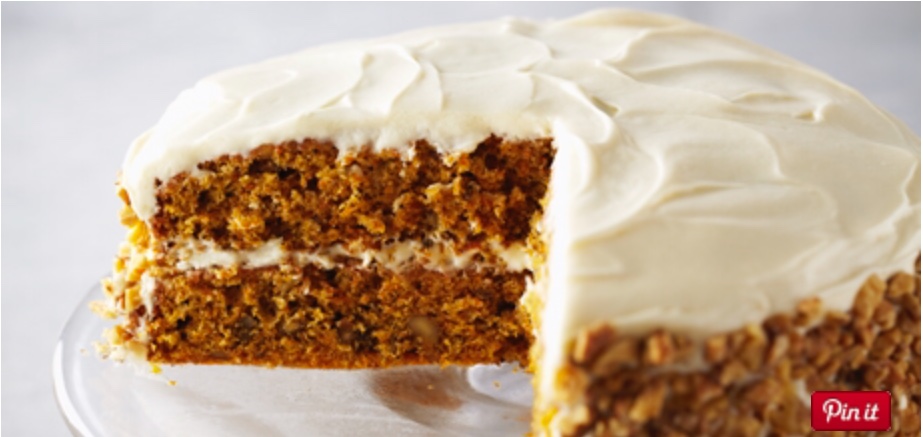 Ted Key's Carrot Cake with Cream Cheese Icing
(TCCPA Kitchen tested)
Ingredients:
2 cups grated carrots
3 large eggs
3/4 cup oil
1 1/2 tsp baking powder
1 1/4 tsp baking soda
1 cup granulated sugar
1 tsp cinnamon
1 tsp nutmeg
1/2 tsp salt
1 cup chopped walnuts
1/2 cup each of light and dark raisins
1 small can of crush pineapple (drained, but not too dry)
Icing:
4 oz cream cheese 2 tsp vanilla
2 cups icing sugar 1 tsp lemon juice
1/4 cup melted butter 1 cup grated coconut (optional)
Directions:
In a large bowl, beat eggs till thick and lemon coloured.
Add sugar and continue to beat.
Add oil, beat well.
Sift together flour, baking powder, soda, salt,cinnamon, nutmeg.
Add nuts and fruit to flour mixture.
Add carrot and flour mixture to egg mixture alternately. Blend well.
Add to a greased baking pan and Bake at 350F oven till done.
Icing: Cream cheese, add sugar, beat well. Add butter, vanilla and lemon juice. Spread over cake.
(Photo credits to foodnetwork.com)